Skip To Content
Writing Within Walls Mentoring Programme
Our mentoring programme inspires prisoners and ex-offenders
to build their confidence and gain access into the publishing industry.
Writing Within Walls so far, we have...
Published 40 authors as part of our two Writing Within Walls collections
Employed 6+ mentors with lived experience of custody
Matched up mentees with literary agencies, publishers and experienced authors across the UK to introduce them to the publishing industry
Expanded our network to prisons in England and Scotland
Ran two National Writing Competitions for people with experience of custody (prisoners, former offenders and those on probation)
Our mentoring programme tackles the widespread disadvantages that can hinder rehabilitation by championing aspiring writers in prison and providing employment to people with experience of custody.
Did you know...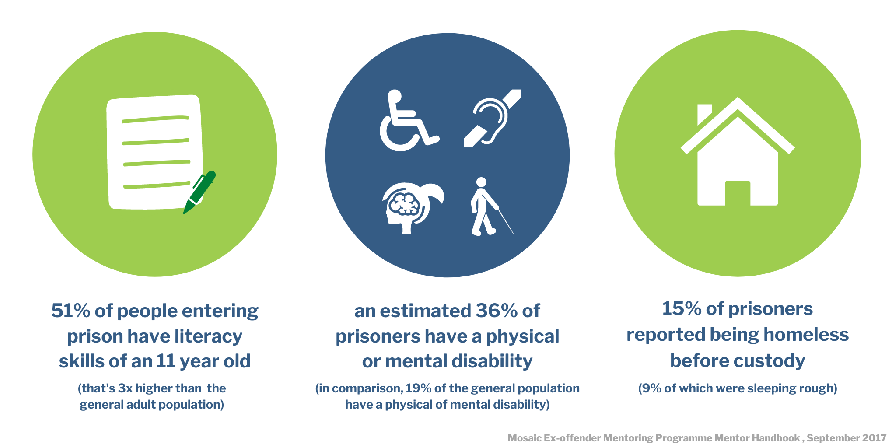 Prison. It is a word that conjures up loss, bleakness and despair.
But behind this are human stories and hope.
Our mentoring programme is designed to reach these human stories and voices with the aim of setting the foundations for rehabilitation and tackling challenges that are specific to prisoners. The purpose of this programme is multifaceted: it provides an opportunity for mentees to gain insight into the publishing industry, it helps participants develop transferable skills for future employment, and the mental health benefits of providing a creative outlet is invaluable. Over the course of 6 months, mentees communicate via letter with a professional mentor to help refine and develop their literacy skills. Mentees will have the opportunity to publish their work through our publishing branch, Arkbound.
Any current or former prisoner is able to participate with our Writing Within Walls programme. This also applies to those who are in, or formerly in, Young Offender Institutes, Immigration Removal Centers and Secure Hospitals.
How does the mentoring program work for those in custody?
Step 1 - Prisoners send us a sample of their work through the post.
Step 2 - We send them an application to get a sense of their skill level and area of interest within creative writing. We then pair them with a mentor with similar interests who we feel can best support them.
Step 3 - The prisoners will send us a letter, including a writing sample, once a month, which we will forward to their mentor. Once the mentor has provided us with feedback and support, this will be sent by us back to the prisoner.
The program duration is for approximately 6 months, during which six exchanges via post will occur between mentee and mentor. Both the mentee's and mentor's names are anonymised for safety, to avoid prejudice, and so both parties can focus on nurturing a professional relationship with a focus on improving the prisoners' writing skills.
---
National Creative Writing Competition 2022 - NOW CLOSED
As part of the Writing Within Walls program, we are currently ran a creative writing competition for prisoners and ex-prisoners. Anyone who has a passion for writing and has experience of custody was eligible. This might have included having experience being held in prison, IRCs (Immigration Removal Centres), young offender's institutions or secure hospitals. .
The top 3 candidates received a cash prize of £25, and the 17 runners up received a cash prize of £10. All top 20 entries are published in 'Enduring Words: A Collection of Creative Work by Prisoners'.
The winners of the competition were selected by a panel of 3 judges who have a creative writing background or have worked extensively with prisoners in an educational capacity.
We may be running a future competition, so keep an eye out!
---
If you know anyone who is currently in prison and might be interested in being mentored, be sure to let them know! Prisoners should make sure to include their Prisoner ID number and a return address. Please send any email enquiries to ana@arkfound.org. Correspondence by post can be sent to our offices in Glasgow at the following address:
Arkbound Foundation,
Rogart Street Campus,
4 Rogart St. Bridgerton,
Glasgow G40 2AA
Are you interested in becoming a volunteer or do you work with an organisation that would be interested in sharing the programme with your network? If so, we'd love to hear from you! Get in touch with us by sending an email to the Writing Within Walls project coordinator, Ana, at ana@arkfound.org.
We are grateful for previous support of the Old Possum's Practical Trust, Matrix Causes Fund, The Forward Trust, WEA and other generous patrons who helped us deliver WWW. We welcome other funding and donations to keep the project going.